About Sylvia, who runs the Salamanders Young Burn Survivors website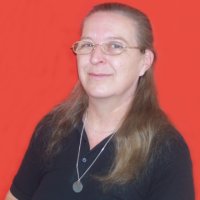 Hello, there! My name is Sylvia Joyce. I'm married, with five grown-up children and ten grandchildren, and since 2009 (when I was 52) I have worked part-time at a Nursing Home just a couple of minutes away from where I live.
My parents' only child, I was born in Wales, and lived in a little village there until I was nine years old. In 1966, my father got a different job, and the three of us (my father, my mother, and myself) went to live in Cheshire. We weren't there for very long, because the company my father worked for sent him abroad to Portugal, and my mother and I went with him.
From 1967 until 1970, we lived in Cascais, a town near Lisbon in Portugal. For those three years, I went to a little fee-paying school which was close enough to our house for me to walk to and from school each day (but not quite close enough for me to go home for lunch, so I used to take sandwiches and eat them on the nearby beach or in the local park).
There were about sixty pupils altogether at that school, but there were only a dozen or so between the ages of nine and sixteen, so, although we were taught as a group in some subjects (art, general science, geography, history, and Portuguese), we studied English, French, Latin, and maths from text-books, each pupil working at his or her own level. I liked studying from text-books, and did much better in those subjects than I did in the others!
It was in Portugal, at the factory where my father was working, that I first saw a computer. It looked something like this. I was very impressed, and never imagined that, thirty years in the future, I would actually have a computer in my own home!
When I was thirteen, we came back to the UK. For the next three years, I went to a an all-girls grammar school, where I passed GCE O-levels in English language, English literature, French, Latin, maths, biology, chemistry, and physics (and failed my German O-level). I didn't much like being at an all-girls school, because I'd always been a bit of a tomboy and didn't fit in very well there, so I didn't stay at the grammar school to study for A-levels. Instead, I enrolled at a college of further education in 1973, leaving there two years later with O-levels in geology and statistics and an A-level in maths.
After leaving school, I worked for varying lengths of time on an egg-farm, as a housemother in a residential home for disabled children, as a stage-hand, and in an office as a clerk/telephonist. Then, when I was twenty-four, I got married and became a full-time housewife.
Since my marriage in 1981, I have lived in the same Victorian house overlooking the River Tamar, in the Cornish town of Saltash.




My first child, Francesca, was born in 1982. Over the next eight years, I had four more children: Wayne, Quinn, Amanda, and Gordon. All five now have homes and children of their own. Francesca, who lives in Saltash and works in a local restaurant, has a daughter. Wayne works for the Duralock fencing company. He and his partner Natalie live in Oxfordshire with their two sons and one daughter. Quinn also works for Duralock, but lives in Saltash with his partner Emma and their three daughters. Amanda and her husband AJ have a son and a daughter. They also live in Saltash. Gordon is a tattoo artist, and lives on the other side of the River Tamar with his wife Chelsea and their daughter.
My two main hobbies are reading and the Internet (not necessarily in that order). I have loved books almost as long as I can remember, and now have almost a thousand in my home library. Since my introduction to the Internet in 1999, it has become my main source of information and entertainment. In fact, the Internet changed my whole life because, after the breakup of my marriage, I met my present husband in an online chatroom. He was then living hundreds of miles away from me, and we got to know each other via an online private messenger. He even proposed to me online!
Until recently, I had three websites up, and was working on a couple of new ones, but I've been forced to change my web host so I'm presently making the necessary changes to get everything back to how it was.
Coding websites and running them properly takes up a lot of time, so, if I'm not sleeping, at work, or doing household chores, I'm usually in front of my computer (with a big mug of tea beside me and sometimes a cat in my lap).
If you want to
contact me
you can email me at salamanders@blueyonder.co.uk. I try to answer all emails within seven days, but this website is run by just me, from one computer. If I am ill or have a family crisis, or if my computer crashes, I may not be able to reply as quickly as I would like, so please be patient with any delay. If you are looking for ways other than email to contact me, my apologies, but (because of the present dangers of identity theft and harrassment) I am not prepared to disclose my street address or phone number on this or any other non-secure website. If you personally are concerned about privacy and safety on the web, I am sure you will understand my position.
Thank you for visiting, and take care 'out there', won't you?